"As an elementary teacher I'm very aware of teaching pedagogy and am very in touch with when my needs as a learner are being met. I am intrigued with Tina's ability to tap into my understanding and develop my new skills/ awareness using demonstration, imagery and visualization, diagrams, focus on body awareness and its effect on my playing. Tina stays within my learning zone while gently nudging me to new playing levels."
 -- Steve Schack, dulcimer student
"On behalf of the all the Augusta staff, thank you for doing such a splendid job at Spring Dulcimer Week. It's very obvious that you are a dedicated and gifted teacher in addition to being a fine musician and performer."
-- Margot Blevin, Director, Augusta Heritage Center
Tina has taught privately since age 12 and has a BA in Music Education from Kent State University. Tina offers private lessons in-person, by Zoom or Skype, and is a sought after instructor at teaching camps and festivals around the country.  Experienced at teaching all levels, from rank beginners to professionals, Tina uses her degree in music and a wide variety of teaching techniques to get students playing music with skill and joy. Tina is also available to do teaching intensives for your local dulcimer club or community and works with the needs of a group to determine workshop topics and goals.  Lesson prices are $60/hour, payable by cash, check and paypal, or through the store.  Contact Tina about lessons.
Available in the Store is Tina's newest offering, Bells in the High Tower, a book of arrangements of seasonal music for the beginner to advanced player.  Included in the book are techniques and tips for learning and performance.  View Bells in the High Tower.
In my experience it has been the rare individual who can both do something exceptionally well and teach it exceptionally well.
You are one of those rare individuals.
--Kimberly Winebrenner, student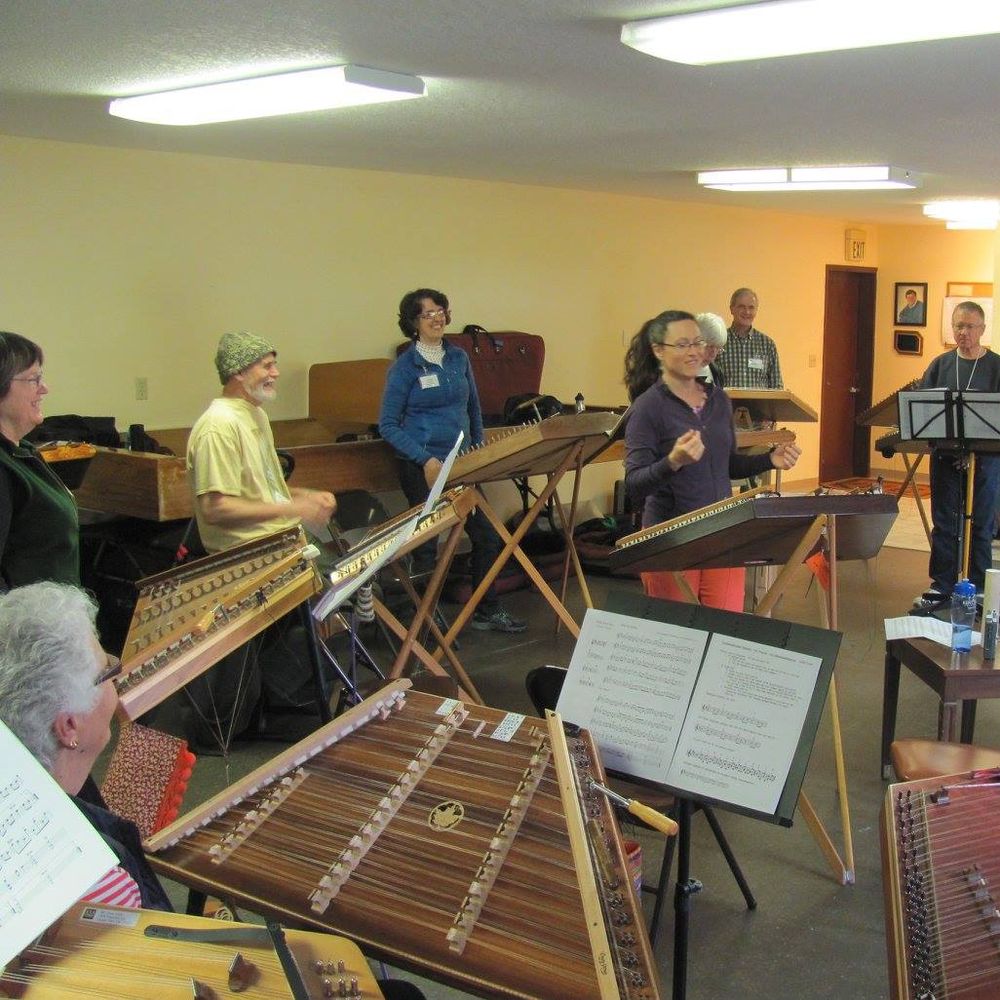 NORTH-EAST OHIO HAMMERED DULCIMER WEEKEND For the past several years Tina has hosted the North-East Ohio Hammered Dulcimer Weekend with Mark Alan Wade, catering to the needs of hammer dulcimer players from states from coast to coast (plus Canada!) with workshops, open mics, jamming and concerts.  Mark your calendars for the 7th annual North-East Ohio Hammered Dulcimer Weekend, Nov. 4-6, 2022. Classes with Mark, Tina and guest instructor Katie Moritz will be offered over an intensive two day period. Registration now open at www.NeoDulcimer.com!
Photo: Tina teaching at the Hammer Dulcimer Rendezvous, Sandy OR.